从2017年三月刊起,会员们可以在家门口收到《饮迷》杂志了,还可享有各种会员福利。From the March 2017 issue, members will be able to receive magazines direct to their door and much more.
2016年,我们成功推出了《饮迷》亚洲版,并举办了饮迷酒吧行业颁奖盛典;而在此之前,我们的杂志已在中国大陆地区发行了八年。新的一年,我们迎来了很多令人激动的新变化,其中之一便是全新的杂志发行方式。
Following on from the successful launch of the DRiNK Magazine Asia edition and DRiNK Magazine Bar Awards in 2016 (and after eight years of publishing DRiNK Magazine in Mainland China), we have some very exciting and important news about the way we distribute the magazine.
从即将出版的三月刊起,我们将只向《饮迷》杂志的会员投放杂志。每年只需支付一杯鸡尾酒的价钱,你便可以获得四期中英双语的《饮迷》中国版,而且享受免费送货上门服务。
From our March issue onwards, we will be delivering DRiNK Magazine direct to members, rather than just to venues. For the price of a cocktail you will be able to guarantee four issues per year of DRiNK Magazine's bilingual China edition – receiving every copy direct to your door.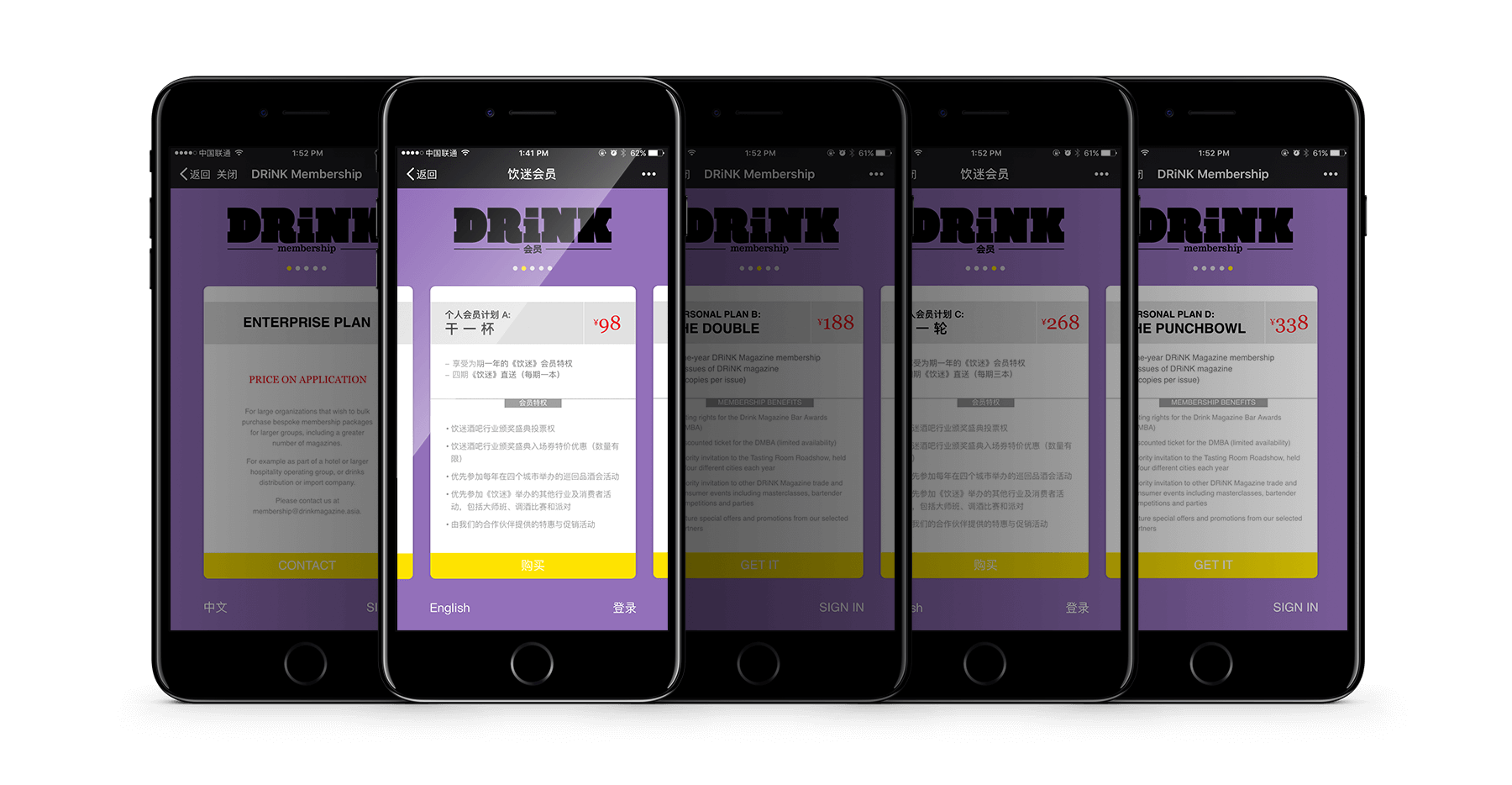 成为会员后,你还会收到独家邀请参加饮迷在全国各地举办的活动,如品酒会、培训课、大师班等等,并享有未来不断增加的更多新福利。作为会员,你还将获得2017年饮迷酒吧行业颁奖盛典投票权,以及亲临现场的机会。
What's more, for the same price you become a DRiNK Magazine Member and get exclusive invitations to a number of events around the country. These will include tastings, education events, masterclasses and more – with further benefits to be rolled out over the course of the year. Members also get the opportunity to vote in the DRiNK Magazine Bar Awards 2017 and opportunity to attend the gala event.
《饮迷》自三月刊起将华丽变身:杂志的设计风格焕然一新,内容更为丰富。"我们将一如既往地坚持分享知识与启迪灵感的使命。"主编Dan Bignold说。"在新的订阅模式下,我们可以呈现来自国内外更多更丰富的内容;更重要的是,杂志将服务一个更广大的读者群体。"
It all begins with the new March issue, which will see a brand new design inside an expanded magazine. "As ever, our mission will be to share knowledge and to inspire," said editor-in-chief Dan Bignold. "And the new subscription model will enable us to deliver even more enriching content from around the region, and more importantly, reach an even wider audience."
一年期会员的价格为98元,其中包括四本免费快递上门的《饮迷》杂志,以及全部会员福利,比如参加仅对会员开放的活动以及成为活动特邀嘉宾。对于想订阅多本杂志的个人会员,我们也推出了多种不同类型的订阅套餐。
Year-long memberships (four copies) are priced at ¥98, which includes shipping, and access to the full program of member benefits, including special member-only events and exclusive invitations. There are further price plans for individual memberships with multiple copies of every issue.
---
快快扫描二维码,成为《饮迷》杂志会员吧!
Become a DRiNK Magazine Member by scanning the QR Code.